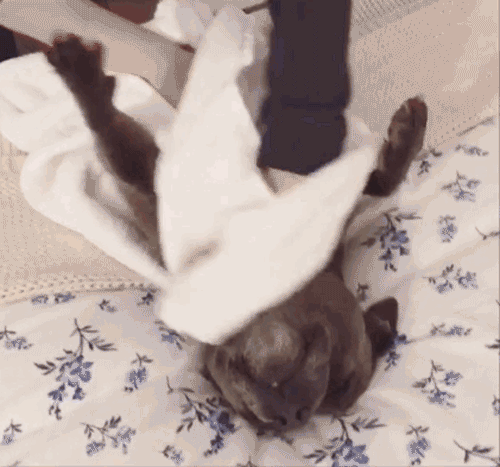 5 Things to Do With Your Old Towels
If you're anything like us, you've probably been deep-cleaning your house the past few days to celebrate the beginning of spring, and if you're cleaning REALLY DEEP, you're probably now faced with a conundrum: You know you need new towels, but don't really want to get rid of the old ones, right? 
Let's get something straight: if your towels are torn or not as absorbent anymore, they're not good towels anymore, but that doesn't mean you have to just throw them away. Here are a few ideas to repurpose your old towels into brand new items.
Turn them into washcloths
Ok, so your towels are not good for your after-shower ritual, but you can still use them during. Cut them into smaller pieces and use them to give you a nice exfoliating bath. Eco-friendly and smoother skin? Yes, please! Just remember that you should wash them often. 
Make a beach bag
It's time to hit the beach and you have your gorgeous beach towel to relax and get dry after splashing around, but your things deserve to stay safe from the water as well. Turn your old towels into a beach bag to toss all your beach day must-haves without sacrificing your favorite bags or your favorite towels.
Turn them into pot holders
Get your old towels out of the bathroom and into your kitchen by turning them into the softest pot holders you've ever had. You can also try to match them with really stylish kitchen linens to bring new life in there. 
Make some cleaning rags
Do you ever find yourself NOT wanting to use your cleaning rags for actual cleaning because they're just so pretty (see kitchen linens above)? Well, make yourself some backup rags with your old towels and save the pretty ones for special occasions (or just for decor, we don't judge). 


Forget about those mop replacements 
We love a Swiffer as much as any other clean freak out there, but those replacements can get pretty expensive... unless you make them yourself. Turn your old towels into new mop towels to save money, be eco-conscious, and extra stylish even while mopping the floors.
And now that you're done with the old, you've made plenty of room for the new! Get your new favorite towels at Sttelli. All of our towels are made from 100% long-staple cotton and you get hotel-quality right into your home.
 What else do you do with old towels? Drop us a comment!